Outdoor Adventure Programs
CPP Programs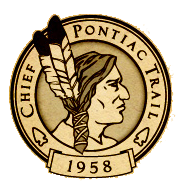 The Chief Pontiac Programs Committee is a group of volunteers who operate a hiking trail and other programs with outdoor experiences for all age groups. These programs are available for all school age groups and although primarily focused to groups related to the Boy Scouts of America (Tiger Cubs, Cubs, Webelos, Boy Scouts, Venturers and Explorers), all youth groups are welcome to participate. The Chief Pontiac Trail Program retains a close relationship with the Boy Scouts of America, Great Lakes Field Service Council in Michigan, participating on a number of council level committees and activities.
There is a backpacking program offered for youth groups including Boy Scouts, Venturers, Explorers and others in the 13 and up age bracket. The Little Brave Program is specifically designed for younger groups.
The CPP also hosts events each year that are designed to support the youth programs as well as providing a training session called for adults interested in learning more about how to use this exciting program to enhance their group's activities.
It should be noted that these programs, while originally designed for members of the Boy Scouts of America are open and available to other youth groups such as home schoolers, Girl Scouts USA, Guides, Pathfinders, etc.
Living History Programs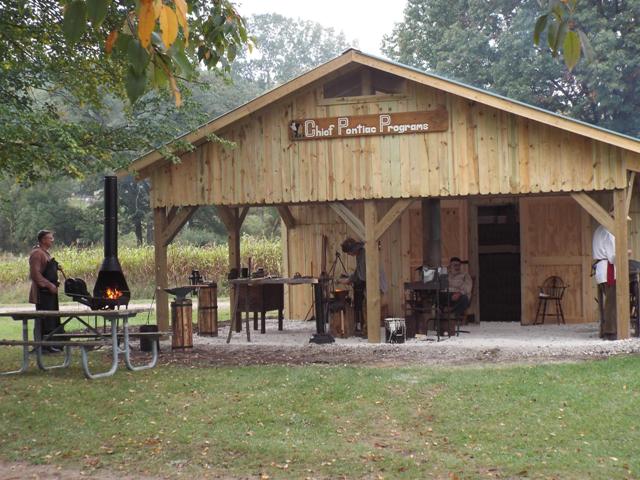 Since 1990 the CPP Committee has sponsored living history themed events in different public parks and scout camps. For a number of years the program was centered at Camp Agawam in a facility, funded and built by the committee, called Fort Pontiac.

With the closing of Camp Agawam, the living history programs has moved to Kensington Metropark in Milford, Michigan. The new facility is called Kensington Living History Village. It is open for classes in 2014.

The blacksmith, carpentry, Life Skills, weaving and sewing, and outdoor cooking classes are again being offered at our new training center.
Future Plans
The Chief Pontiac Programs Committee is continueing to develop a revised Early American Skills Experience, offered at Kensington Living History Village. We are committed to continue creating unique living history themed educational programs for youth and adults. The FORT Pontiac Challenge patch program, for youth and adults, is once again being offered, at the new facility.
Scheduled Events
The CPP Committee supports some of the Kensington Metropark Farm Center Activities with the Early American Skills Experience program. Check the Early American Skills Experience Schedule.